The Wishflour Story
Is there a particular food that brings back a special memory for you? Something that reminds you of a precious time with someone you knew a long time ago or a place you remember fondly as a child? It does for Marcey Mertens.  
Marcey has been baking her entire life. From chocolate cake made in the kitchen with her mom as a child to first-day-of-school cookies for her own kids. She would make wedding desserts for her niece to special celebration treats for her friends and family — all this time, over and over and over, she heard, "You should open a bakery!"
After raising two kids and having a career in the corporate world, Marcey decided to tackle that dream of opening Wishflour Bakery. Realizing she needed help figuring out how to do it, she turned to The Callaway Bank for guidance. Marcey had banked there for many years, and they were the place she and her husband got a home loan years ago. They always took good care of her. She reached out to Jacob Pestle, who was then the acting Branch Manager, to get things started.
"The Callaway Bank has been amazing," said Marcey. "From the beginning, when I didn't even have a 100% clue what I was doing, every step of the way, it was always, 'What can we do?' and 'here are some ideas,' and 'here's who you can talk to."
Flour Power
Starting with a business checking account that best fit her needs was step one. The business checking account has all the necessary items she needed as a busy business owner. The business banking mobile app and business online banking are part of what's required for all successful business owners today. But, the additional options that were helpful are the account alerts and Callaway Bank Rewards.
"I for sure would not be where I am now without the team at The Callaway Bank helping me get to those next steps," Marcey stressed.
The dedicated Business Banking Team, that Jacob now manages reviews potential, current, and growing businesses to help ensure their needs are not only met but anticipated for long-term success. 
One of Marcey's greatest joys with Wishflour Bakery is when people tell her that something she made brought back a special memory or reminded them of someone from their childhood, like their grandpa. "If I can bring back that sweet memory or create a new one, then I've done my job!"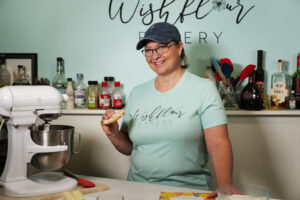 We're ready to help in any way we're able! Let's get started! With business services that fit your needs, business and commercial accounts, and business lending options for your new or growing business.
Ready to grow your business? Contact our team today to learn how The Callaway Bank can help!
Interested in what other customers have to say?
Business Banking
Learn how The Callaway Bank can be your partner for all your Business Banking needs. We can help you grow, become more efficient, or simply get started.
Business Cash Management Services
Choose from a variety of services that allow you to maximize your cash flow and better manage your funds.
Business Rewards
Earn points for opening an Ultimate or business checking account with debit card, debit card purchases, and when you sign for a home or auto loan!