Simplify Your Business! Deposit Checks From Your Office.
Remote check deposit allows you to deposit your checks when and where it's convenient for you, evenings and weekends included. While we love to see you come into our bank, we know you're busy and we want to help make your life easier. There are two options to give you flexibility, and both are fast and secure.
Option 1: Mobile Check Deposit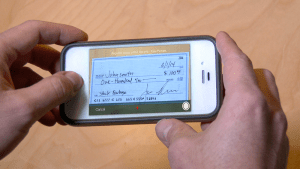 Mobile Check Deposit allows you to deposit checks from your smartphone or tablet with our Business Banking App.
Simply snap a picture of both sides of the check and the mobile app sends the check to the bank. This process uses high-level encryption to secure your data and protect you.
Best of all this service is at no charge to our business checking clients.
This option works best for businesses with a low volume of checks.
Deposit checks anywhere, anytime, with Mobile Check Deposit from The Callaway Bank. 
Option 2:  eDeposit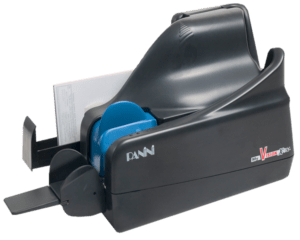 eDeposit is suited for businesses that have a higher volume of checks.  eDeposit uses a small desktop scanner that can process up to 90 checks per second. We have lower volume scanners that are great for processing a handful of checks at a time.
This technology works through our Business Online Banking portal. You deposit checks from your own office and receive a credit to your account just as if you visited our lobby.
Gain Efficiency:
This system scans your checks, creates the deposit ticket, and sends them securely to the bank for processing. It also archives the check images which eliminates the step of copying checks for your files. Deposits can be made up to 5 p.m. for same-day credit. The system also provides full research access to past payments.
There is a small monthly fee for this service that easily covers the time and resources you used to spend on processing your deposit.
Simplify Your Day.
Business Banking
Learn how The Callaway Bank can be your partner for all your Business Banking needs. We can help you grow, become more efficient, or simply get started.
Business Mobile App
Business Mobile App with Mobile Check Deposit is here! The Callaway Bank Business Mobile app allows you to bank on the go. It's free to download and offers quick access for managing your business accounts. Check your balances, pay bills, transfer money, locate ATMs and banking centers with just a touch*. Our native app is fast, secure […]
Business Digital Banking
Business Digital Banking lets you manage many aspects of your banking relationship from wherever you are anytime. Business Digital Banking is free, secure, and available to you 24/7.
Personal Mobile Check Deposit
Deposit checks anywhere, anytime with Mobile Check Deposit from The Callaway Bank.