Our Free Student Debit / Checking Accounts are Designed with Students in Mind.
Low cost to start, and all the digital options you need.
With this account, there are no monthly service charges, no minimum balance required, and you only need $25 to open your account. Your account also comes with a Callaway Bank debit Mastercard®, or you can customize your debit card with one or your favorite pictures for $5.95.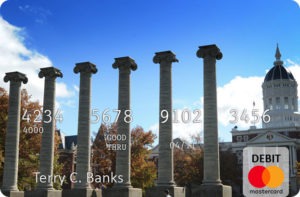 Don't have a favorite picture? You can pick from our library of cards (which includes pictures of campus, greek life designs, and lots of other fun card options) for just $1.95.
Plus, Free Student Debit / Checking comes with all of the great technology that comes with our regular accounts, including our Mobile App, Bill Pay, Mobile Check Deposit, Apple Pay® and eStatements.
Overdraft Protection Options:
Sometimes its easy to run out of funds and not realize it. At that point do you prefer to have your account prevent further purchases so you avoid overdraft fees, or do your prefer to have access to extra funds for an additional fee?  Either way we can accommodate you!
Option 1:  Avoid overdraft fees by declining Courtesy Pay.  When your account is empty your debit card will be declined.
Option 2:  Access up to $800 in additional funds with Courtesy Pay for an additional fee per occurrence.  See details at the bottom of the page.
TIP:  Setup up eAlerts which notify you when you reach a particular balance level, such as when your account hits $100 remaining, you get a text alert that you're getting low on funds.  eAlerts are included with Student Debit / Checking.
Free Student Debit / Checking
| Includes: | |
| --- | --- |
| Monthly Service Charge | $0 |
| Minimum Balance to Open | $25 |
| Minimum Balance Required | $0 |
| Debit Mastercard® | |
| Mobile App | |
| Mobile Check Deposit | |
| eStatement w/ Check Images | |
| Fraud Analytics Protection | |
| Online Bill Pay | |
| eAlerts | |
| 24hr Telebanking | |
| No Fees on Checks Written or Items Deposited | |
| Other Fees | Common Fees |
| Optional Features | |
| Courtesy Pay Overdraft Protection1 | $800 Limit |
| Paper Statement | $3.95/mo |
| FavCard | $5.95 |
Digital Wallets
The Callaway Bank now offers Digital Wallets: Google Pay™, Apple Pay®, and Samsung Pay™.
Personal Mobile App
The Callaway Bank Mobile app allows you to bank on the go. It's free to download and offers quick access for managing your consumer accounts.
FavCard®
Customize your consumer check card and make it your FAVorite card!  The Callaway Bank offers you the option to put that special picture on the card that you use most – your check/debit card.
1Courtesy Pay Overdraft Protection charges $32.50 per item overdrawn. The fee may be imposed for covering overdrafts created by check, in-person withdrawal, ATM withdrawal or other electronic means. ATM and everyday debit card transactions will be covered only if prior authorization is on file with the bank. Negative balances must be made current within 30 days, but will be subject to a $3.00 per day fee beginning the 3rd day the account is negative. Overdrafts are paid at the sole discretion of the bank. Overdrafts may not be paid if your account is not in good standing.