Smockingbirds has been in business for the past ten years.Virginia McCoskrie, attributes her success to the fact that "I offer a unique mix of fun, affordable gifts and wonderful customer service."  You can find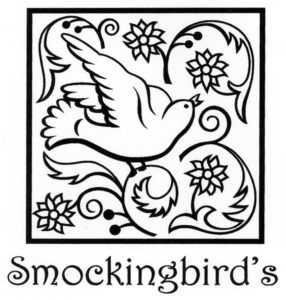 everything from jewelry, gourmet food,glass ware, bath & body luxuries, candles, greeting cards, handmade chocolates and owner-made handsmocked children's clothes! Located in the Brick District at 529 Court Street, Ste.1, Smockingbirds is open Monday,Tuesday &Friday: 10-5; Wednesday &-Thursday: 10-6, & Saturdays:  10-4. Find out more about this Rewards Shop Local, double points merchant at: www.smockingbirdsgifts.com  or you can also find them on Facebook.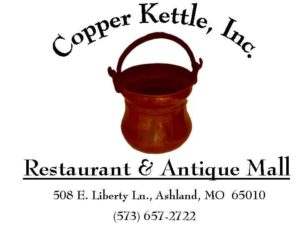 Copper Kettle Restaurant is located in Ashland. A casual, home style cooking restaurant they service breakfast, lunch and dinner Wednesday through  Saturday 7:30 am – 9:00 pm and on Sundays  8:00 am – 3:00 pm. Copper Kettle offers catering services, free WiFi, access to their Banquet Rooms, and an antique mall.  Find out more about this Rewards Shop Local, merchant on their  Facebook page .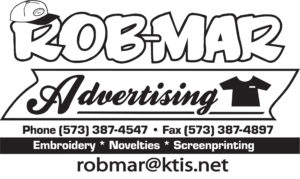 Rob Mar Advertising is a promotional product distributor and proud member of the Advertising Specialty Institute.  Rob Mar offers supply's to your company with every possible promotional product from over 3000 suppliers. There mission is to help you create long-lasting relationships with your clients through the power of promotional products. Contact Marylin and her team at 573.387.4547 or by email at [email protected]. To view there full line of custom promotional materials at www.rob-maradvertising.com.