Have you received a postcard or letter with "an important matter" regarding your mortgage?
Have you received a postcard or letter about a time-sensitive issue with your mortgage urging you to call an unknown phone number? If you have, you are not alone, as scammers all across the country are pulling public data records to target you and your information.
The first thing to understand is that these mailings did not come from The Callaway Bank or any other financial institution. They are sent to homeowners in the hopes of selling you something or, most often to steal your identity by tricking you. Recipients are asked to call a phone number about an "important matter" with their loan. This scam is especially tricky because it looks like a late notice or official letter that mentions your lender by name.
The notices will often have a small disclaimer on the bottom stating, "Not Affiliated With" and your lender name. However, in the example below, there is no mention of that.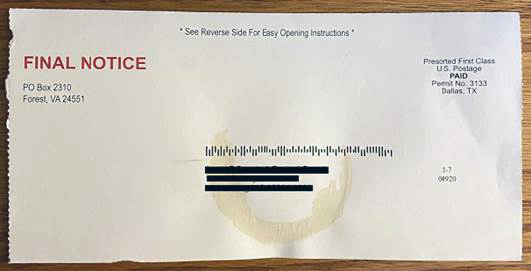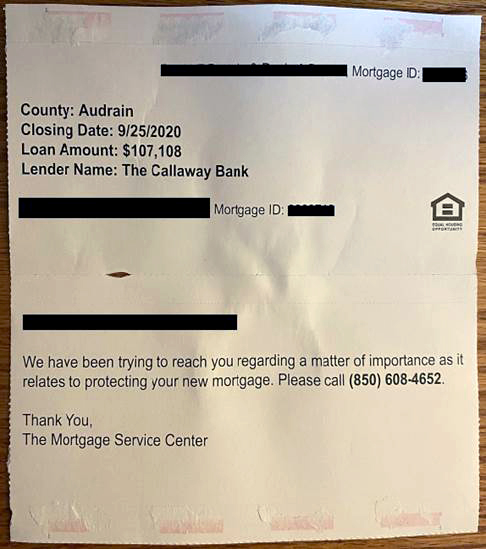 The example seen below is from Home Warranty Solutions and mentions The Callaway Bank as the lender. According to The Better Business Bureau, Home Warranty Solutions has a C rating and not BBB Accredited. The letter also gives the impression that they are working with the bank. But that is not true at all.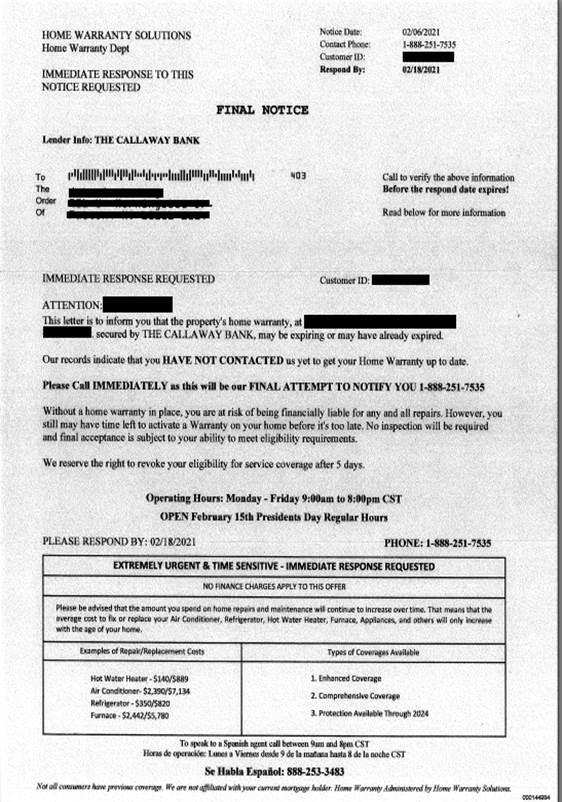 The Callaway Bank is committed to protecting your personal information, and we do not sell or otherwise distribute it to non-affiliate third parties. There is some information with mortgages, regardless of what lender you might have worked with, that is public record. Public Record entries are how scammers like this obtain your information. For example, companies can get information from a county recorder's office, such as lien filings or property purchase and transfer documents, which are all public records. The records and the information they can gather are used to develop letters with detailed information to help legitimize the "important matter" they refer to.
If you receive the notice, disregard and dispose of it as you would any other junk mail. Calling the number may connect you with a real person, or it may connect you to an automated recording. Regardless, do not offer your personal information. It could lead to some unfortunate problems.
Please contact us seven days a week for any questions you may have.