First Time Home Buyer $1000 Credit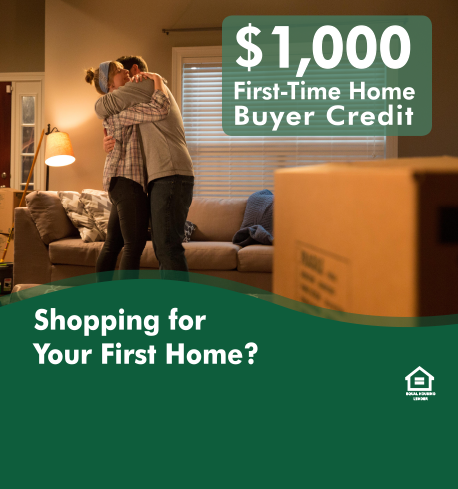 If you're thinking of buying your first home now is a great time. Not only are rates at historic lows but The Callaway Bank is giving borrowers $1,000 credit on your closing costs when you finance your home with The Callaway Bank! This credit is available to first time home buyers, or anyone who hasn't owned a home in the past three years. This is a limited time offer and requires approved credit.
Special Offer Details:
Offer good through December 31, 2019 for First-Time Homebuyers. All qualifying loans must be financed through The Callaway Bank and close on or before December 31, 2019. A First-Time Homebuyer is an individual who has had no ownership interest (sole or joint) in a residential property in the previous three-year period, and will reside in the mortgaged premises as a primary residence. Additionally, a displaced homemaker or single parent may also be considered, if the individual had no ownership interest in a residential property in the previous 3 year period other than an ownership interest in the marital residence with a spouse. Mortgage must be the first lien to qualify. Some exclusions may apply. Only one special credit offer available per residence. See a lender for details.
Mortgage Lenders
Callaway's mortgage lenders are with you for the moments that matter: buying a home!
Request a Rate Quote
Applying online is easy. We'll walk you through each part of the application and do everything we can to make your loan easy and hassle-free.
What Type of Home Loan is Right For Me?
The Callaway Bank has many lending products that First Time Home Buyers can use with the First Time Home Buyers credit.
Choose from a full line of lending products including:
Adjustable Rate Mortgages
Adjustable Rate Mortgages generally mean lower initial interest rates. Interest rates shift with market conditions instead of staying fixed. If selling or refinancing your home is on your radar during the early years of your mortgage, Adjustable Rate Mortgages may be the right fit.
Fixed Rate
Fixed Rate Mortgages allow you to plan and stick to a budget. With this type of mortgage, interest rates, payment amounts, and the duration of the loan remain steady and predictable. No fluctuation, no surprises.
FHA
If you are unable to make a large initial down payment, an FHA loan may be for you. These loans are insured by the Federal Housing Administration (FHA) and are popular with first-time home buyers. Talk to one of our home loan lenders to see if you are eligible.
VA Loan*
Federal VA programs allow veterans and their families to reach their homeownership goals. Talk to one of our community lenders to see if you are eligible. We owe so much to our veterans. In honor of their service, The Callaway Bank wants to give back by waiving the appraisal fee on their home loans up to $1,000! Click here to learn more.
USDA Loan
If you live outside the city limits, you may be eligible for a USDA loan. Our rural neighbors can reach the goal of homeownership with financing from the US Department of Agriculture. Talk to one of our lenders to see if you are eligible.
HELOC (Home Equity Line of Credit)
This can be used for debt consolidation, home improvement projects, and other things where a little extra money would be nice. (HELOC applications are not available online at this time.)  Please contact one of our lenders below or our Customer Care Team for a HELOC application.
*VA loans apply to any active or honorably discharged member of the United States Army, Navy, Air Force, Marines, Coast Guard and National Guard.
Approved loans are made by The Callaway Bank and do not imply that any loan is made by HUD, FHA, VA, USDA or the US Government.