Special Introductory Rate as Low as 4.OO% for 12-Months*APR
and Prime -0.25% APR* Thereafter.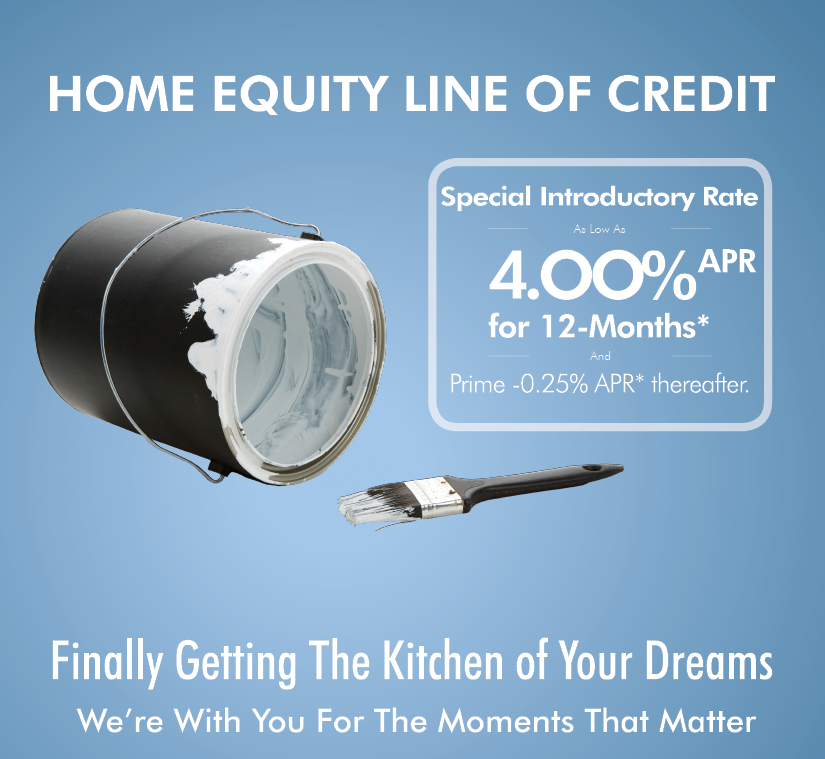 Offer Details: Subject to credit approval. Introductory rate is an Annual Percentage Rate (APR) fixed for the first 12-months as low as 4.00% and up to 4.50%, based on credit score and loan-to-value. After the introductory period, the APR is determined by credit score and loan-to-value at the time of the loan and may vary and will be based the prime rate quoted in the Wall Street Journal as the "Wall Street Journal Prime Rate" minus 0.25% up to Prime plus 1.50%. The Wall Street Journal Prime Rate on 04/01/2019 at 8:15 AM was 5.50%. Current index (Wall Street Prime Rate) plus margin (-0.25% to 1.50%) is 5.25% to 7.00% but the rate will never go lower than the starting rate at origination. This is a limited time offer and terms and conditions are subject to change without notice and may affect this offer. $350 closing fee applies. See a loan officer for details. Proof of homeowners insurance is required.