Mastercard® Information
The Callaway Bank offers debit and credit cards through Mastercard.
Worldwide Acceptance: Our Debit and Credit Mastercards can be used at over 39.6 million locations worldwide.

gas stations, grocery stores, department stores, restaurants, airlines, hotels, doctors' offices and internet merchants
Our cards also feature chip (EMV) technology for enhanced security. For more information about using your chip card, click here.
Callaway Bank Debit Mastercard benefits are outlined below: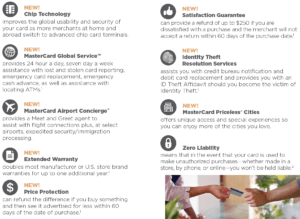 Details of these benefits can be found in the Mastercard Guide to Benefits below.  These guides describe the valuable programs offered to you as a cardholder through The Callaway Bank. For more information on the programs for your specific card type, please click on the corresponding link below.
Debit Mastercard Guide To Benefits
Credit Mastercard Guide To Benefits
If you have any questions regarding our Mastercard products, please contact Customer Care Team at 800.446.2265 or visit with a Personal Banker at one of our locations.