Mobile Check Deposit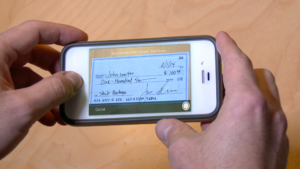 The Callaway Bank is pleased to announce that Mobile Check Deposit available with the new version 3.0 app!
Sometimes there's just not enough time in the day to run by the bank. When you're busy, Mobile Check Deposit is the fast and secure solution.
Deposit checks anywhere, anytime with Mobile Check Deposit from The Callaway Bank. With Mobile Check Deposit, you'll have the ability to deposit checks from camera-equipped smartphones and tablets, saving you time and providing quicker access to funds.
Convenience is in your pocket. Simply follow these steps on your smartphone or tablet to get started:
1. Download The Callaway Bank Mobile App in your phone's app store.
2. Enroll for Mobile Check Deposit in the Mobile App.
3. Once enrolled, open the app on your device and key in the deposit amount.
4. Endorse your checks and take pictures with your phone as directed by the Mobile Check Deposit tool.
5. Submit! Within a few seconds you'll see confirmation that the deposit was received.
Having trouble getting started? Stop by any of our Callaway Bank locations and one of our Personal Bankers will be happy to assist you, or you can contact our Customer Care Team at 800.446.2265 or [email protected]