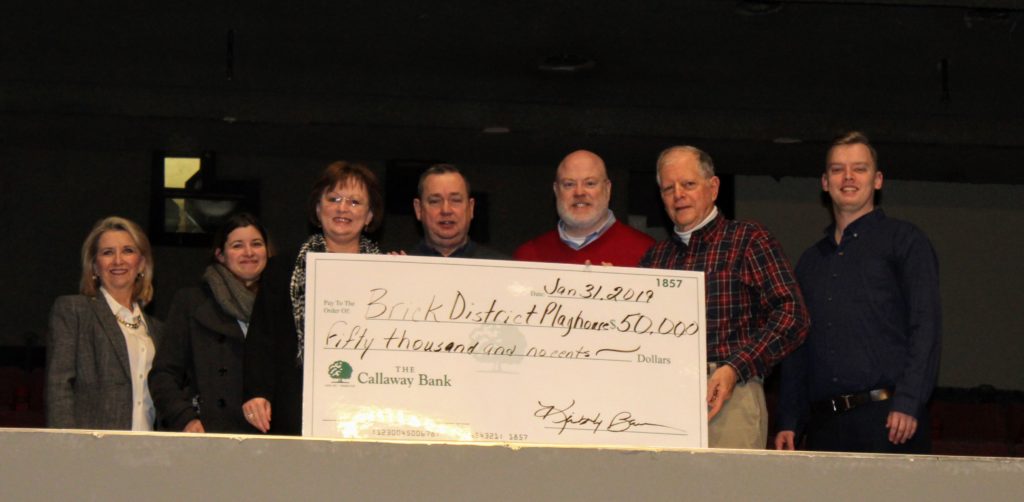 The Callaway Bank recently made a $50,000 donation to the Brick District Playhouse as part of a new partnership with the organization and in support of their new restoration capital campaign.  The Bank sees the Playhouse as an essential cultural element to the community and a contributor to the local economy.  We appreciate the variety of performing arts and entertainment and believe the Playhouse fills a need for the area.  The Playhouse will give the community a stage for aspiring actors, singers, and performers of all types who will bring the performing arts back to the Brick District.
President & CEO, Kim Barnes said the Bank is happy to be in a position to support this renovation project. "This newly developed partnership will make a positive impact and help to continue their progress as they near the end of this construction phase.  The Brick District Playhouse is a contributor to the quality of life in our community, and we want to support their efforts."
The Brick District Playhouse theatre was originally built in 1928 for both vaudeville productions and motion pictures and operated in the historic downtown district of Fulton for nearly 80 years.  The building sat vacant after 2005 and was in a poor state of disrepair.  In 2015 a group of community leaders decided the building should be renovated both for historic preservation and also to be a venue for plays, concerts, and other attractions.  The result would be a cultural center and economic driver for the community.  Those visionary leaders formed a non-profit organization to begin the transformation process.
Since then the Playhouse has made a dramatic transformation through a tremendous amount of hard work.  While it opened in 2017 and regularly offered a variety of performances, it still had a lot of renovation to be done. Towards the end of 2018 the Playhouse board decided to launch a capital campaign for its next phase of renovation and approached The Callaway Bank to be a signature partner with this effort.
For the past 162 years, The Callaway Bank has been supporting the communities we serve in monetary and voluntary contributions.  We believe that it is vital to help local businesses and non-profit organizations to keep our communities vibrant.  When the opportunity for the Brick District Playhouse presented itself to support the renovation project of the 90-year-old historic theatre in Fulton's Brick District, it just seemed the right thing to do.
January 30, 2019 |Fulton Sun, Playhouse Balcony Under Renovation