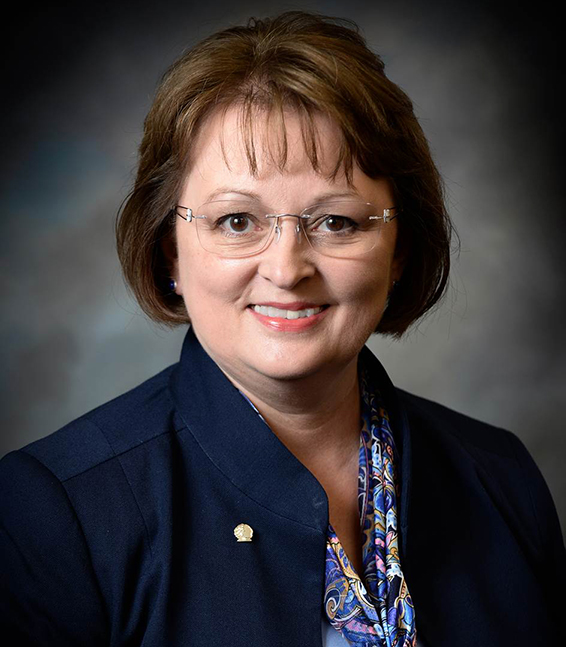 Kimberly D. Barnes
Kim Barnes leads The Callaway Bank as its President and CEO and has since October 2012.  Her career in banking began, however as a lobby receptionist with The Callaway Bank in 1987.  At the time, Kim was a recent graduate of William Woods University, with degrees in accounting and computer science.  The timing was perfect because soon after she started the Bank decided to install its first in-house computer system.  The president looked to Kim and said, "We think this would be a great fit for you," and put her on the implementation team for the project.
Over the years Kim has held many positions throughout the Bank. Much of her service was behind the scenes where she spearheaded many of the bank's products and services initiatives and Information Technologies Department.
Kim's vision for the Bank is to see it continue as an independent community bank dedicated to helping its clients succeed in their financial goals.  "We want to be their consultant, their advisor, their partner in life.  Our tagline, 'We're with you for the moments that matter,' is entirely correct about how we feel.  Because when our clients are successful and moving their businesses forward, then it makes us stronger, too," says Kim.
As president and CEO, she has continued to innovate through multiple initiatives that include branch redesign, Employee Give Back Day, Callaway Business Coaching, and Downtown Revitalization Program.  Kim was instrumental in helping launch the Show-Me Innovation Center and in bringing the Missouri Women's Business Center to Fulton.  Both groups provide support for new and existing businesses and encourage entrepreneurship.
Kim understands the importance of giving back and does so through many areas of service within our communities and the state. She serves or has served on the following boards: SERVE, Inc., Callaway Chamber of Commerce,  Fulton Area Development Foundation, Missouri Women's Business Center, Missouri Bankers Association, and William Woods University Board of Trustees, and the Missouri Independent Bankers Association.
More Information About Kim
ORIGINAL HOME TOWN?
West Plains, Missouri
HOW MANY YEARS HAVE YOU LIVED IN MID-MISSOURI?
37 if you include time at William Woods
WHAT BROUGHT YOU TO WWU/FULTON, MO?
I was the first person in my family to attend college, and felt I'd get a better education at a small college rather than a large state university. William Woods provided us with the best financial aid package and I fell in love with the campus – even though we first toured in the bleak, windswept landscape of early March. It was a long, old trek from the freshman dorms to Tucker dining hall, and I'm still thawing out!
HOW LONG HAVE YOU BEEN IN BANKING?
Since 1987
HOW LONG HAVE YOU BEEN EMPLOYED AT THE CALLAWAYBANK?
Since 1987, and I've never seriously considered working anywhere else. It just felt like the right fit the moment I walked in for my first interview. I've had wonderful mentors and opportunities to grow.
TELL US ABOUT YOUR FIRST POSITION HERE.
I started as a Lobby Assistant, which in those days was a combination of receptionist, customer service, and lending assistant.
WHAT IS YOUR FONDEST MEMORY OF WORKING AT TCB?
I can't possibly pick just one, there have been so many good memories ranging from "food days" and fundraisers to implementation of new products and systems. We have good folks here and I've been privileged to work with so many through the years. One fond yet bittersweet memory is seeing Bruce Harris's smile and hearing his uplifting "Good morning" on his last day in the office.
TELL US ABOUT YOUR COMMUNITY INVOLVEMENT.
I've been active over the years in various organizations, such as the United Way, Relay For Life, Habitat for Humanity, and SERVE, Inc. Our banking community is also important to us. I've been involved with several associations including the Missouri Bankers Assn., the Missouri Independent Bankers Assn., and the Independent Bankers of America. Community banks are an integral part of our local economy, and I believe it's important for our Midwestern voices to be heard in the seats of power, where decisions affecting our communities are made.
TELL US ABOUT YOUR FAMILY.
My husband Rob and I lived in Auxvasse for many years and now live in Fulton.  We have an extended family of parents (Helen Brixey of West Plains and Bob and Barbara Barnes of Auxvasse), brothers and sisters, nieces and nephews, etc., scattered throughout the United States. Our two adopted stray cats are Bogey and Earl.
WHAT ACCOMPLISHMENT ARE YOU MOST PROUD OF?
Being the first person in my family to attend college and graduate with honors in less than four years.
WHAT DO YOU ENJOY DOING WHEN YOU'RE NOT AT THE BANK?
I love to read and spend time in my garden.
WHAT ARE YOU MOST PASSIONATE ABOUT?
I believe we all have a duty as citizens to be active and supportive of our local communities, from civic organizations to local government, from economic initiatives to charitable endeavors. Each of us plays a role in keeping our communities and our state strong, and each of us has a contribution to make toward the good of the whole even if it's as simple as being informed and exercising our right to vote, or supporting a worthwhile charity.
MOST PEOPLE DON'T KNOW THAT … I love snow!
IF YOU WERE STRANDED ON A DESERTED ISLAND WHAT WOULD BE THE TWO ITEMS OR FOODS THAT YOU COULD NOT DO WITHOUT?
Well, chocolate of course! And mom's chocolate pie. That counts as two, right, even if they're both chocolate?!
IF YOU WEREN'T IN BANKING WHAT WOULD YOU BE DOING?
That's a tough question. I might be a librarian or have a book store, or work with antiques or animals, but I really love being a community banker most of all and wouldn't trade for anything else.
News and Interviews with Kim Barnes
June 29, 2017 | Kim sat down with Kristen Brown for her ProFresh Podcast to talk about women business leaders and entrepreneurs.
May 13, 2017 | Columbia Business Times, The Callaway Bank: Respecting Their Roots
April 12, 2017 | News Tribune, New Opportunity Available for Callaway Women
December 14, 2018 | Fulton Sun, Historical Society Acquires Second Location
January 30, 2019 | Fulton Sun, Playhouse Balcony Under Renovation
August 3, 2021 | Fulton Sun, Female Leaders of Callaway County: Kim Barnes