Two Great Business Credit Cards To Choose From
BUSINESS REWARDS CREDIT CARD
Earn 1 point for every $1 in purchases in The Callaway Bank's Rewards Program. Already a Callaway Bank Rewards member? Your credit card points will combine with your debit card points, so you can earn rewards even faster. Points can be redeemed for gift cards, merchandise, travel, donations to local charities, and hundreds more options. You can redeem your points at any time through your online portal account.
To enroll, contact a Callaway Personal Banker, open an Ultimate Checking, Business Checking, or Business Rewards Account, and receive your welcome packet — no fee required! Collected points are good for three years before expiration.
BUSINESS CASHBACK CARD
Keep track of your business expenses while earning 1% cash back on all your purchases. Plus, you've got the flexibility to choose when and how much cash back to redeem. Save your cash back for a big payout or redeem each month as you earn it. It's up to you. Your cash back never expires, and is applied as a statement credit when you decide to redeem.
Why Choose a Callaway Bank Credit Card?
Business Credit Ca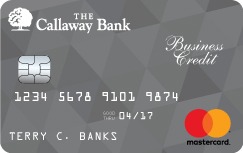 NO ANNUAL FEES, ZERO LIABILITY¹
You're protected no matter what. If your card becomes the victim of fraud, you won't be liable for those charges.
CHIP TECHNOLOGY THAT PROVIDES FRAUD PROTECTION
All of our credit cards come with enhanced EVM (chip) technology to ensure more secure transactions while using your credit card. It's an extra layer of fraud protection to help keep your account safe. In addition, your account is monitored for suspicious activity with our 24/7 Fraud Analytics Protection. If we suspect fraud on your account, we'll block the activity and let you know about the potential fraud.
LOCAL CUSTOMER SERVICE
We understand that when you need to talk to someone about your card, it helps to talk to someone in person. Our branch staff and Customer Care Team are here to help with your credit card account, just like they do with your other Callaway Bank accounts. Our Customer Care Team is available by text or call, 7 days a week, to answer all of your banking questions.
Benefits Included With Your Business Credit Card
| | Business Rewards Credit Card | Business Cash Back Credit Card |
| --- | --- | --- |
| Rates | 13.99% - 20.49% | 13.99% - 20.49% |
| Rate Details | Click for Rate Details | Click for Rate Details |
| Annual Fee | $0 | $0 |
| Rewards | Earns 1 Reward Point Per $1 Spent | Earns 1% Cash Back on All Purchases |
| Issued and Managed by The Callaway Bank | | |
| Local Customer Service | | |
| 24/7 Fraud Analytics Protection | | |
| 24/7 Customer Service | | |
| Paying Late Won't Raise APR | | |
| No Overlimit Fee | | |
| Account Alerts | | |
| MasterCard Benefits | | |
| Zero Liability1 | | |
| Identity Theft Resolution Services2 | | |
| MasterCard Emergency Services2 | | |
| Price Protection2 | | |
| Extended Warranty2 | | |
| MasterCard Airport Concierge™2 | | |
| Priceless Cities Offers & Experiences™2 | | |
| | | |
Choosing a Business Credit Card
At The Callaway Bank, we offer two different business credit card options. So which is the right choice for your company?
Business Rewards Card: This card model gives you 1 point for every $1 spent. This option may give businesses with high spending trends the most return value. A business rewards card may work best for businesses looking to receive discounts on travel and lodging. However, The Callaway Bank offers hundreds of point payout options for card holders. If you are already a member of The Callaway Bank you may choose to combine your credit card and debit card points.
Business Cash Back Card: A business cash back card is simple, straightforward, and easy to redeem. Your credit card account receives 1% back on all business-related purchases. This low-maintenance rewards program allows for easy flexibility for your business to choose how your money is spent. This card option may be the best choice for companies not looking to closely manage their spending rewards.
Why The Callaway Bank?
We are a locally owned, community bank whose goal is to improve the financial life of our clients, and we'll do whatever we can to help them fulfill their needs and goals. We'll guide you in finding the best options in personal or business banking services.
Other Business Services from The Callaway Bank
Our credit cards and banking services allow you to support your community bank and give your business a boost at the same time. Stop by one of our locations to get in touch with a banking and credit officer to discuss your financial needs today.
¹Certain restrictions apply. See www.mastercard.us/zero-liability for details.
²Certain restrictions apply. For details see www.callawaybank.com/cardbenefits