The Callaway Bank cares about setting you up with the checking / debit account that is right for you. Whether you are managing your entire family's finances or helping your child learn to budget with a student account, we're positive The Callaway Bank has an option that will serve your needs.
Common Checking Features:
All our checking accounts include features that will make you feel secure, like free Fraud Analytics Protection, as well as online and mobile banking that lets you manage your finances efficiently while on the go. The Callaway Bank eAlerts will keep you on top of your transactions. eStatements, with check images, reduce the risk of fraud and identity theft while conserving paper.
Open Your Account and Walk Out with Your Debit Card Ready to Go!
Best Value Option:
Ultimate Checking® Accounts at The Callaway Bank offer even more services, like letting you skip the surcharge when using non-Callaway Bank ATMs. This account also allows you one waived overdraft fee each year, because we understand you're human.
Ultimate Checking package gives you great features like:
Refunded Non-Callaway Bank ATMs1
Free Bank Logo Checks
One Waived Overdraft Fee Annually
Stop by a branch today to open a new account.
No Fee Options:
We still offer a Basic Checking account that has no monthly fee and a new Cash Back Debit Card where you could earn up to $8 back each month.
Ultimate Checking Account
Our Ultimate Checking® Account is the best value! It includes many services and features with only a small monthly fee of $5.95.
Cash Back Debit Card Account
The Cash Back Debit Card from The Callaway Bank rewards every swipe or click with 4% (up to $8/month) cash back.
Basic Checking Account
Basic Checking is an account that comes with all of the features that you will need to feel secure.
Free Student Debit / Checking
Our Free Student Checking accounts are designed with students in mind.
Personal Mobile App
The Callaway Bank Mobile app allows you to bank on the go. It's free to download and offers quick access for managing your consumer accounts.
Digital Wallets
The Callaway Bank now offers Digital Wallets: Google Pay™, Apple Pay®, and Samsung Pay™.
The Callaway Bank Rewards Program
Available with Ultimate or Business Checking accounts with a debit card, and earn points for debit card purchases, when you get a home or auto loan or other products!
FavCard®
Customize your consumer check card and make it your FAVorite card!  The Callaway Bank offers you the option to put that special picture on the card that you use most – your check/debit card.
Non-Interest Checking Accounts | Comparison Table
| Includes: | Ultimate Checking | Basic Checking |
| --- | --- | --- |
| Monthly Service Charge | $5.95 | $0 |
| Minimum Balance to Open | $100 | $100 |
| Minimum Balance Required | NONE | NONE |
| Refunded Non-Callaway Bank ATMs¹ | | N/A |
| Callaway Bank Rewards + Points to Open Account | 1,000 pts | N/A |
| Waived Overdraft Fees Annually | 1 | 0 |
| Free Bank Logo Checks | | N/A |
| No Fees on Checks Written or Items Deposited | | |
| Debit Mastercard® | | |
| Fraud Analytics Protection | | |
| eStatement w/ Check Images | | |
| Online Banking | | |
| Online Bill Pay | | |
| eAlerts | | |
| Mobile Banking App | | |
| 24hr Telebanking | | |
| Other Fees | Common Fees | Common Fees |
| Optional Features | | |
| Courtesy Pay Overdraft Protection2 | $1,200 Limit | $800 Limit |
| Paper Statement | $0 | $3.95/month |
| FavCard (custom debit card) | $5.95 | $5.95 |
| FavCard (choose from our library) | $1.95 | $1.95 |
¹Other bank's ATM Fees will be refunded when the customer notifies The Callaway Bank within 60 days of the statement date in which the transaction was posted. Applies only to ATM's within the United States.
²Courtesy Pay Overdraft Protection charges $32.50 per item overdrawn. The fee may be imposed for covering overdrafts created by check, in-person withdrawal, ATM withdrawal or other electronic means. ATM and everyday debit card transactions will be covered only if prior authorization is on file with the bank. Negative balances must be made current within 30 days, but will be subject to a $3.00 per day fee beginning the 3rd day the account is negative. Overdrafts are paid at the sole discretion of the bank. Overdrafts may not be paid if your account is not in good standing.
FavCard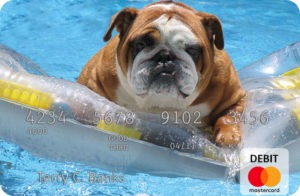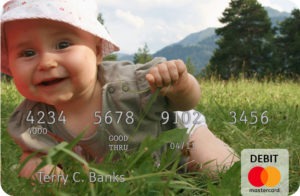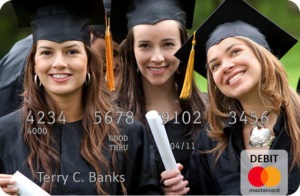 Customize your consumer check card and make it your FAVorite Card! The Callaway Bank offers you the option to put that special picture on the card that you use most – your debit card. Plus your card is ready when you leave the branch with our Insta-Print card technology!
It's easy to receive your new FavCard®. Stop by any of our convenient locations and take home your FavCard today!
Learn more about The Callaway Bank FavCard.