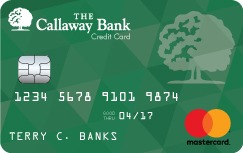 At The Callaway Bank, we've designed our credit cards with our customers in mind. Whether your goal is to have a credit card for emergency use, to help build your credit, or to earn you cash back on all of your purchases, The Callaway Bank has a card option to fit your needs. Callaway Bank Credit Cards are issued and managed by The Callaway Bank, which means you also benefit from local decision making and local customer service. We understand that when you need to talk to someone about your card, it helps to talk to someone in person. Our branch staff and customer care team are here to help.
Our Callaway Bank Credit Cards  feature enhanced card security, including new chip technology, zero liability, and 24/7 account monitoring.
Additionally, we've partnered with Mastercard® to offer all of the great features their credit card holders receive, such as an extended warranty on purchases, concierge service for when you need help booking a trip or getting reservations for a restaurant, travel protection, and identity theft resolution services.
Multiple Card Options To Fit Your Needs
Personal Credit Cards
Advantage Card
Cash Back Credit Card
Rewards Credit Card
Credit Builder Card
Card Benefit
Our Best Rates Available
Earns 1% Cash Back On All Purchases. Redeem When And For Whatever Amount You'd Like.
Earns Points On All Purchases. Redeem for Gift Cards, Travel, Merchandise, or Donate to Local Charities
For Those With Limited or Challenged Credit. Credit Limit Secured by Certificate of Deposit.
Rates
9.24%-16.24%*
12.24%-19.24%*
12.24%-19.24%*
12.24%
Annual Fee
$0
$0
$0
$0
Rewards/Cash Back
N/A
Earn Cash Back On All Purchases
Earn Rewards Points
10,000 Free points for Opening Account
N/A
Expiration of Rewards/Cash Back
N/A
Never Expires
After 3 Years
N/A
Redemption of Rewards/Cash Back¹
N/A
Redeem Accrued Cash Anytime
Redeem Points Anytime
N/A
Issued and Managed by The Callaway Bank
Local Customer Service
24/7 Account Monitoring
24/7 Customer Service
Paying Late Won't Raise APR
No Overlimit Fee
Account Alerts
Mastercard Benefits
Zero Liability¹
Identity Theft Resolution Services
Mastercard Emergency Services
Price Protection²
Extended Warranty²
Mastercard Airport Concierge™²
Priceless Cities Offers & Experiences™²
Click to View Rate Details!
Click to View Rate Details!
Click to View Rate Details!
Click to View Rate Details!