Earn points on everyday purchases that can be redeemed for gift cards, merchandise, travel packages, or donated to select local charities! All you need is a qualifying account¹ and you're automatically enrolled in the Callaway Bank Rewards program at no additional cost! Register now to manage your points online and to see the full selection of rewards options!
Earn Points Faster
When you open additional qualified accounts, loans, or other select services, you can grow your Rewards Points total even faster! There are many ways to earn additional points, see the full list at callawaybankrewards.com.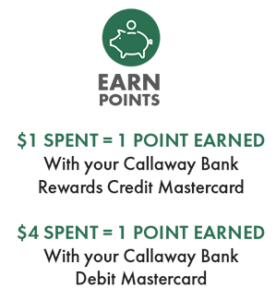 Shop Local – Earn Double

Shopping local is even better when your purchase at Shop Local partners because at select locations you can earn double points! You can redeem your points for merchandise, gift cards, donate points to a local charity, plus book travel options with your reward points. There's plenty of time and ways to use your points, begin browsing today!
Shop Local, Double Points Partner: 1canoe2 Paperie, BEKS, Bob's Car Wash, Brooklyn Pizza, Callaway Custom Printing, Center Court, Champion Pet Salon LLC, China Palace, Columbia Healthy Smiles, Copper Kettle Restaurant, Court Street Custom Framing, Cranes Country Store, Dairy Queen– Fulton, Donut D-Light, Fulton Cinema 8, Fuller Jewelers and Associates, Fulton Ford, Garrett & Campbell, Hams Prairie Store, Jose Jalapeno, Lilly's Cantina, McIntire's Florist, Millersburg Veterinary Hospital, Nutrishop, Playhouse Cafe, Rance's Carpet & Cabinets, Re-Made For A Purpose, Rock 'N RV Tack Shop, Scott's Auto Repair, Serenity Valley Winery, Shryock Farms, Smockingbird's, Sweet Temptations, Tacos and Tequila, TLC Lawncare, Truescape Garden Center, Trail Boss BBQ, The Mattress Store, The Station, Vision Arts Eyecare, Well Read
Shop Local Partners:
C&R Market, Forum 8, Macadoodles, Sault's Drug Store, Scizzor's Hair Design Columbia, Studio Seven

How do I redeem my points?
Redeeming points is easy. You can check your point balance, shop for rewards, or redeem your points by phone at 877-446-7937 or online at callawaybankrewards.com.
Gift Cards: Local & National
Redeem your points for gift cards to all your favorite places. Enjoy a variety of gift card options from both local and national merchants across a wide variety of categories like dining, shopping, or entertainment. Click here to see the full list of ever-changing options.
Merchandise
Whether you're looking for something for yourself, or as a gift, there's something for everyone to love with the extensive merchandise selection you can shop online, here! Categories include electronics, athletic gear, home goods, and more!
Donate your points
Pay it forward with your points! You can use your Rewards Points to donate to select local charities. The United Way, Serve Inc., The Food Bank of Central Missouri, Boys and Girls Club, and additional options are available for donations.
Travel: Deals, Packages, and No Strings
Spontaneous or planned; however you choose to travel, Callaway Bank Rewards offers a wide range of getaway destinations to suit your style. Enjoy a selection of top travel destinations, access to exclusive deals, airline tickets, hotel accommodations, car rentals, cruises, vacation packages and there are even excursion options  — all in one place.
Enjoy the freedom of: 
   No blackout dates 
   No advance notice requirement 
   No round-trip flight requirement 
   No Saturday night stay requirement 
¹ Ultimate Checking, Business Checking, and Commercial Checking (with an active debit card); and/or Rewards Credit Card. Accounts must be in good standing.
² Tax payments and ATM withdrawals are not eligible to receive Callaway Bank Rewards.
Full program details HERE.