With the new Cash Back Debit Card account, you earn money by simply using your card! This account rewards you with: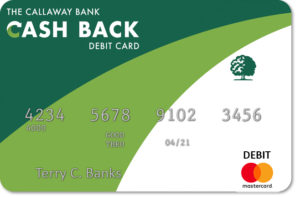 4% Cash Back
Up to $8 per month based on your debit card purchases*
FREE ATMs
We won't charge a fee to use another bank's ATM and you can use more than 32,000 MoneyPass® ATMs nationwide without a fee from the other bank. If you do receive a fee from an out of network ATM, we'll automatically refund up to $12 each month.*  Yep – you don't even have to call us, we'll refund it automatically.
Qualifications For Cash Back and ATM Refunds
To qualify for monthly cash back and ATM refund rewards you simply need to do these three things:
18 Debit Card Purchases Monthly
$1,200 in Monthly Direct Deposits
Be Enrolled in eStatements
Cash Back Debit Card: Specific Account Details
Monthly Service Charge
$0
Minimum Deposit to Open
$100
Minimum Balance Required
$0
Cash Back Reward Spending Tiers*
--- $50 - $99.99
$2 Cash Back
--- $100 - $149.99
$4 Cash Back
--- $200 - $249.99
$6 Cash Back
--- $250+
$8 Cash Back
Non-Callaway Bank ATM Fee Refunds*
Up to $12
Fraud Analytics 24/7 Protection
Online and Mobile Banking
---Bill Pay
---Mobile App
---Mobile Check Deposit
---eStatements w/ Check Images
---eAlerts






Courtesy Pay Overdraft Protection1
Optional Services
Paper Check Processing
$1.25 each
Faster Personal Payments are Here!
Zelle is a convenient way to send money to friends using your Callaway Bank mobile banking app or online banking account.
Personal Mobile App
The Callaway Bank Mobile app allows you to bank on the go. It's free to download and offers quick access for managing your consumer accounts.
Personal Mobile Check Deposit
Deposit checks anywhere, anytime with Mobile Check Deposit from The Callaway Bank.
Personal Checking Accounts
Personal Checking / Debit Accounts. Let us help you find the checking account that is right for you.
Overdraft Protection Options:
Sometimes its easy to run out of funds and not realize it. At that point do you prefer to have your account prevent further purchases so you avoid overdraft fees, or do your prefer to have access to extra funds for an additional fee?  Either way we can accommodate you!
Option 1:  Avoid overdraft fees by declining Courtesy Pay.  When your account is empty your debit card will be declined.
Option 2:  Access up to $800 in additional funds with Courtesy Pay for an additional fee per occurrence. See details at the bottom of the page.
Option 3:  Ask about a Signature Line of Credit.
TIP:  Setup up eAlerts which notify you when you reach a particular balance level, such as when your account hits $100 remaining, you get a text alert that you're getting low on funds.  eAlerts are included with Cash Back Debit Card.
Other Information:
*Requires $100 minimum deposit to open account. All regular account opening procedures apply and are subject to approval. Monthly rewards based on statement cycle. To qualify for up to $8 in cash back rewards and up to $12 in ATM refunds, each statement cycle requires: at least 18 qualified debit card purchases, receive a minimum of $800 in direct deposits, and be enrolled in eStatements.   Other restrictions apply.  See a banker for more details.
1Courtesy Pay Overdraft Protection charges $32.50 per item overdrawn. The fee may be imposed for covering overdrafts created by check, in-person withdrawal, ATM withdrawal or other electronic means. ATM and everyday debit card transactions will be covered only if prior authorization is on file with the bank. Negative balances must be made current within 30 days, but will be subject to a $3.00 per day fee beginning the 3rd day the account is negative. Overdrafts are paid at the sole discretion of the bank. Overdrafts may not be paid if your account is not in good standing.