Fraud Protection
Protect yourself against identity theft
Learning how to protect yourself is the first step in guarding against identity theft. To view the FDIC's video on protecting yourself against internet thieves and electronic scams you can visit http://www.fdic.gov/consumers/consumer/guard/index.html
If you suspect your identity has already been stolen
In the event that your identity is stolen, you need to know what to do to correct it. The Missouri Highway Patrol provides a great resource for "What to do if it happens to you."
Helpful Info To Protect Yourself:
Protect your PIN:
Never write down your PIN (Personal Id Number). Memorize it as soon as you get it.
Do not disclose your PIN to anyone. No one from any financial institution, the police or a merchant should ever ask for your PIN.
Beware of phishing emails. These are emails that appear to be from your bank or online merchant asking for account information. Do not reply to them or click on any links. Visa®, The Callaway Bank or any other legitimate online merchant will never ask for your PIN or other personal financial information via email.
At an ATM or PIN pad, enter your PIN discreetly, shielding the keypad with your hand or body.
Robo Calls
In an attempt to gain financial information, scammers will often use "robo calls" or automated calling systems.  The caller ID usually appears as "unknown".  Often,  a computerized voice will advise the person on the line that  their debit card has been stolen and advise them to follow the prompts for more information.
Be assured, The Callaway Bank does not use automated "robo" calls for any reason.  If we need to discuss an issue with our customers, we reach out with a live person.  We would not ask for their numbers or PIN because we already have them.
If someone receives one of these calls and mistakenly provides their card number, they should contact us or their financial institution immediately for guidance. Our Customer Care Team is well trained in assisting with these types of issues.
Tips To Follow
Review your monthly checking account statements to spot any unauthorized purchases. You can also monitor your account activity online at any time at www.callawaybank.com.
Review your credit reports for accuracy. Call any one of the three credit reporting agencies to receive your free annual credit report.
Credit Bureau Numbers:
You're Protected by FraudWatch Plus®.
Callaway Bank customers' finances are kept safe through FraudWatch Plus®, an improved fraud monitoring system that looks for suspicious activity on your check card. FraudWatch Plus® scores each transaction performed by your debit card with a numerical score which indicates the likelihood of the transaction being fraudulent. Transactions over a certain score generate an alert, which is then reviewed by fraud detection experts who then contact the cardholder to determine if the transactions are fraudulent. If transactions are identified as fraudulent the cards are blocked, cards are reissued, and they begin the process of getting your money back.
Fraudulent activity on your account?
If you find any fraudulent activity on your account, come into the bank as soon as possible so that we can begin the process of correcting the fraudulent activity. We will immediately begin to research and restore your account, in order to keep your information and finances secure.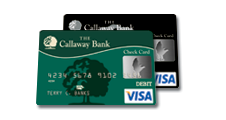 If you think your card has been lost or stolen, you will need to come into the bank to talk to one of our Personal Bankers about canceling your card and ordering you a new one.
During Business Hours:  Contact us if you have questions or concerns at:
(573) 447-1771 (Columbia Area),  (573) 592-6352 (Fulton Area), or (800) 446-2265 (toll free).
After Business Hours: (800) 264-5578 to report a LOST or STOLEN card.