Merchant Services for Business Owners
Banking with us means you can enjoy options and personalized advice on the best fit for accepting credit cards for payment, terminals, phone/tablet apps, virtual terminals, point of sale devices, integration into existing point-of-sale systems, and website integration for YOUR specific business type,
PLUS:
• Take payments with less stress, no contract, and enjoy local-personalized service that takes care of all the paperwork and initial setup for your business. The Callaway Bank's Merchant Service options are designed to make running your business easier.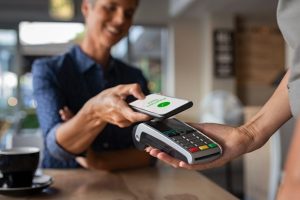 No contract/lease + Local Service
At The Callaway Bank, we understand the unique needs of businesses. That's why we offer a wide range of merchant services to help our business customers thrive.
We partner with BancCard of America to provide customized solutions tailored to your needs and goals. And because we take the time to get to know you and your business, we can offer the best possible service and support.
Whether your business is just starting or is well-established, we have the right solution for you. So if you're looking for merchant services that will make your life easier and your business more successful, we're here to help you every step of the way.
Next-day availability of funds. Get your money fast with our next-day funding option. With this service, you can have your funds deposited into your account the next business day.
Point-of-Sale Terminals
One of the most important aspects of any business is the point-of-sale (POS) system. This is the system that you use to process transactions and track sales.
We offer various terminal models through our partnership with BancCard. As a result, The Callaway Bank can provide you with the right POS system to fulfill the distinctive needs of your business.
We offer the latest terminals from VeriFone, Hypercom, Exadigm, and Ingenico
EMV-NFC (enabling contactless payments via terminals)
Wireless
WIFI
IP/Dial Communication
Check Imaging
We understand that every business is different, and we'll work with you to find the best POS solution for your particular needs. Contact Our Business Banking Team
Recurring payments. Set up and manage automatic payments for charges that need to be processed regularly, such as subscriptions or membership fees.
Shopping cart compatibility. If you sell products or services online, it's crucial to have a shopping cart compatible with your chosen gateway. This will ensure that transactions are processed smoothly and efficiently.
Interactive voice recognition (IVR) processing. The IVR processing feature is essential for businesses that process large transactions. This feature allows customers to make payments by phone using their credit card or checking account information.
IP/dial communication. Process payments using your existing phone line. This is a convenient option for businesses that don't have a dedicated POS terminal.
QuickBooks integration. Email invoices directly to customers' inboxes. This is a convenient way to keep track of your customers' payments, ensure they are received, and save on postage costs.
Mobile Products
Smartphone processing. Accept credit card payments using your mobile phone.
Tablet processing. Accept credit card payments with a tablet device at trade shows, markets, and any other type of event.
ARU (audio response unit). Using your touch-tone telephone, process credit card payments using our ARU. This is a convenient solution for businesses that need to process payments remotely.
More Options For Your Business
Gift & Loyalty Card Options: This is a great way to boost sales and encourage customer loyalty to your small business.
Accept all major credit cards (Visa, MasterCard, American Express, Discover and Diners Club), Electronic benefits transfer (EBT), Private label fleet cards, on-line and off-line debit cards, and FLEX spending cards.
Other Services Offered
In addition to our various merchant services, other valuable services for retailers, home businesses, and internet merchants can include:
check guarantee, check verification, conversion of checks to electronic media, electronic gift card, wireless solutions, next-day availability of funds and internet-based processing of credit cards for eCommerce sites.
Check Guarantee: Accept customer checks, knowing that you will be reimbursed for any bounced checks.
Check verification. Verify a check's validity before accepting it.
Check conversion service. Convert paper checks into electronic formats,to streamline your payment processing and help reduce fraud.
Next-day availability of funds. Get your money fast with our next-day funding option. With this service, you can have your funds deposited into your account the next business day.
Talk to a Merchant Services Specialist
If you're looking for a comprehensive merchant service or other payment solution, The Callaway Bank may be just what you need. We offer a variety of services that are designed to meet the needs of businesses of all sizes.
Our experienced specialists are dedicated to helping you get the most out of your merchant services. Contact the dedicated Business Banking Team today to learn more about what we can do for you.