Mastercard® Information
The Callaway Bank offers debit and credit cards through Mastercard.
Worldwide Acceptance: Our Debit and Credit Mastercards can be used at over 39.6 million locations worldwide.

gas stations, grocery stores, department stores, restaurants, airlines, hotels, doctors' offices, and internet merchants.
Callaway Bank Debit Mastercard benefits are outlined below: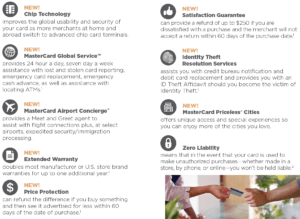 Details of these benefits can be found in the Mastercard Guide to Benefits below. These guides describe the valuable programs offered to you as a cardholder through The Callaway Bank. For more information on the programs for your specific card type, please click on the corresponding link below.
Debit Mastercard Guide To Benefits
Credit Mastercard Guide To Benefits
Mastercard for Businesses
We offer two options for business credit cards through Mastercard and The Callaway Bank. Both are great options, and they have different benefits based on your needs.
Business Rewards Credit Card
Earn 1 point for every $1 in purchases with The Callaway Bank's Rewards program. Already a Callaway Bank Rewards member? Your credit card points will combine with your debit card points, so you can earn rewards even faster. Points can be redeemed for gift cards, merchandise, travel, or donations to local charities. Points expire after 3 years if unused.
Business Cashback Credit Card
Keep track of your business expenses while earning 1% cashback on all your business purchases. (Business Credit Card Current Rates)*. Plus, you've got the flexibility to choose when and how much cashback to redeem. Save your cashback for a big payout or redeem each month as you earn it. It's up to you. Your cashback never expires.
Credit Card Benefits
With The Callaway Bank credit card options for personal and business, you can enjoy the benefits that you expect and the service you deserve.
No annual fees, zero liability¹
24/7 fraud analytics protection²
Chip technology for safety
Local customer service
Please contact our Customer Care Team at 800-446-2265 for more information.
¹Certain restrictions may apply. For details, see Debit Mastercard Guide To Benefits attachments. ²Certain restrictions apply. See www.mastercard.us/zero-liability for details.
MasterCard and the MasterCard brand mark are registered trademarks and MasterCard Global Service and MasterCard Airport Concierge are trademarks of MasterCard International Incorporated, used pursuant to a license. All third party trademarks referenced herein are the property of their respective owners.