Now You Can Pay with Your Phone!
The Callaway Bank now offers Digital Wallets: Google Pay™, Apple Pay®, and Samsung Pay™.

Digital Wallets are digital versions of your debit or credit cards stored in an app on your mobile device.  To protect you and your card information, the card number and personal information are not actually stored on the phone.  Your card number is only used to set up your digital wallet.
What makes a digital wallet so great? Simply put, convenience. A digital wallet allows users to make purchases with just their phone, instead of their physical debit or credit card. No more digging for your wallet. It's literally as easy as touching your phone to the payment terminal to make your purchase. You'll also be able to use your digital wallet for online and in-app purchases.
---
Read Our Blog:  Is it Really Safe to Pay with my Phone? 
---
It's fast and more secure than a traditional card.
How do I set up my card?
Download the appropriate app. (iPhones® already have the Wallet app installed, and many Android phones do too.  Apple Pay only works on iPhones, and Google Pay only works on Android Phones.  Samsung Pay only works on Samsung Phones, and yes Samsung's can also use Google Pay.)
Load your card. The app will walk the user through the process and makes it easy by using the camera to capture your card info.
Verification.  The app will prompt the user to call the bank so we may confirm the user's identity.  We will ask you for key information like your social security number, and we'll ask you to name one of your most recent card purchases.
Note: Many iPhone customers won't have to do this step if they are using the card they have set up in their iTunes/Apple account.
All Done!  Cardholders will receive a notice in the mail within a few days to confirm that they set up their digital wallet.
How do I use the wallet app?
When it's time to check out just make sure your device is unlocked and hold it to the terminal — you don't even need to open the app.  It uses a Near Field Communications (NFC) signal in the phone to transmit the data.  The phone has to be almost touching the terminal for it to work.  Look for a card terminal that has the symbol below on it, or any digital wallet app icon such as Apple Pay.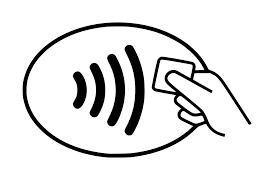 More information regarding your specific wallet can be found on these websites:
Apple, the Apple logo, iTunes, iPhone, and iPad are trademarks of Apple Inc., registered in the U.S. and other countries. Apple Pay and Touch ID are trademarks of Apple Inc.
Google Pay is a trademark of Google Inc. Android, Android Pay, and the Android Logo are trademarks of Google Inc.