FRAUD ALERT– Our Customer Care Team has been informed of a new phishing scam hitting the Mid-Missouri area. The scam involves email and text messages that look like the pictures below. Please remember that The Callaway Bank already knows your card information and will never text or email you asking for it if we're contacting you.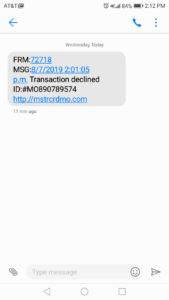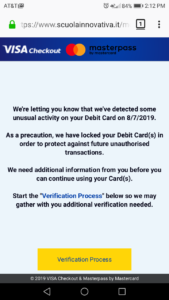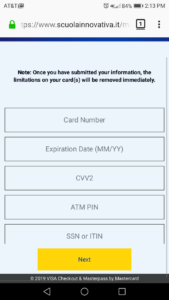 If you have any questions please contact our Customer Care Team. Call or text us at 573-642-3322 or email at [email protected].
Criminals use a variety of methods to defraud consumers every year. Protect yourself by knowing what scams are being used to gain access to people's personal information and money.
If you should receive one of these scams and mistakenly provide your account or card number, contact us or your other affected financial institution immediately for guidance. Our Customer Care Team is well trained in assisting with these types of issues.
Robo Calls
In an attempt to gain financial information, scammers will often use "robo calls" or automated calling systems. The caller ID usually appears as "unknown". Often, a computerized voice will advise the person on the line that their debit card has been stolen and advise them to follow the prompts for more information.
Be assured, The Callaway Bank does not use automated "robo" calls for any reason. If we need to discuss an issue with our customers, we reach out with a live person. We would not ask for their numbers or PIN because we already have them.
Unsolicited Phone Calls
If you are concerned about the legitimacy of a phone call that was not initiated by you, don't be afraid to hang up or ask for the reasoning behind the call. Then contact the company using legitimate sources such as contact phone numbers found on the company's website, your statements, or those listed on your debit or credit card. Do not provide any personal or account information until you have verified the source of the call to be legitimate.
Never provide your account or payment information on a call that you did not initiate.
Charity Fraud
Everyone has received requests for charity donations in one form or another. Many legitimate charities use telemarketing, direct mail, email and online ads to ask for contributions to their cause. Unfortunately, scam artists also use these techniques to take your money. If someone asks for a donation, ask questions and do your research to confirm their legitimacy before providing any money or payment information. The Federal Trade Commission (FTC) offers tips to ensure that your contributions are actually going to the charity you'd like to support.
Phishing
When internet fraudsters impersonate a business to trick you into giving out your personal information, it's called phishing. Don't reply to email, text, or pop-up messages that ask for your personal or financial information. Don't click on links within them either – even if the message seems to be from an organization you trust. It isn't. Legitimate businesses don't ask you to send sensitive information through insecure channels.
How the FTC Recommends Dealing with a Phishing Email or Text Message:
Delete email and text messages that ask you to confirm or provide personal information (credit card and bank account numbers, Social Security numbers, passwords, etc.). Legitimate companies don't ask for this information via email or text, as these channels of communication are not secure.
The messages may appear to be from organizations you do business with. They might threaten to close your account or take other action if you don't respond.
Don't reply, and don't click on links or call phone numbers provided in the message, either. These messages direct you to spoof sites – sites that look real but whose purpose is to steal your information so a scammer can run up bills or commit crimes in your name.
Area codes can mislead, too. Some scammers ask you to call a phone number to update your account or access a "refund." But a local area code doesn't guarantee that the caller is local.
If you're concerned about your account or need to reach an organization you do business with, call the number on your financial statements or on the back of your credit card.