Rewards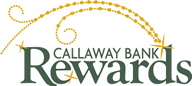 Customers with one of our Ultimate Checking® accounts can earn rewards just for using your Callaway Bank debit card! Business checking customers also qualify with a Callaway Bank business debit card.
The Callaway Bank also rewards you as a customer for a variety of other financial services. Earn points for opening a personal or business checking account and debit card, online banking, when you sign for a loan, open a new investment account or refer a new customer!
Businesses can take advantage of the rewards program through such services as their business debit card, card processing services, online banking and money market accounts.
There's no fee. All you need is to have one of our Ultimate Checking® accounts and a Callaway Bank debit card to participate.
Points are good for 3 years before they expire and can be redeemed for merchandise, gifts, electronics, music, ring tones, gift cards, and donations to local charities; there are literally hundreds of options. 
PLEASE NOTE: Online registration only allows existing Callaway Bank Rewards members to manage their points online after your welcome kit has been received.
Follow these easy steps to enroll in the rewards program today:
Contact a Personal Banker
Open an Ultimate Checking®  or business checking account with a Callaway Bank debit card
Receive a welcome packet
Click here for bank contact information.
Click here to go to the Rewards site.
Callaway Bank Rewards – another valuable reward designed just for you from The Callaway Bank.
Shop Local Program
The Shop Local Program is specifically designed in an effort to support our local businesses.  Customers are able to redeem their Rewards points for gift cards to local businesses. Now you have the ability to choose gift cards to your favorite local establishments, in addition to your favorite chain retailers and restaurants.
The logos of participating businesses are placed on our Rewards site for Callaway Bank Rewards customers to choose from when redeeming their points.
Some businesses offer Shop Local Double Points as a way to thank customers for their business.  Check back frequently for an up to date list  of participating businesses.

Watch for the gift bag to see which businesses participate in Double Rewards.
Bob's Car Wash (located in Fulton on 2nd St. near the roundabout & on Route Z across from Walgreen's)
China Palace
Hams Prairie Store
Oriental Mart
Scizzor's Hair Design in Columbia
Check back frequently for an up to date list  of participating businesses.
Click here to go to the Rewards site.
Local Charities Program
In an effort to support our communities, Callaway Bank Rewards customers can make $10, $25 or multiple donations to local charities by using their Rewards points. It is easy to do and just think of what a positive difference your generosity can make!
Refer a Friend, Receive Rewards!
Have your friend present this card when they go to any Callaway Bank location to open a checking account and Callaway Bank debit card, and we will credit both your Rewards accounts 3,500 points.
Questions? Contact: (573) 642-3322,  (573) 447-1771, (800) 446 BANK (2265), or [email protected]