Check out our list of current Shop Local merchants and redeem your Callaway Bank Rewards points for gift cards to your favorites.  We'll keep you posted as new businesses sign up! We currently have  36  Shop Local merchants.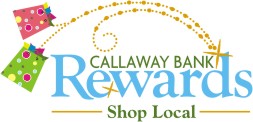 If you are a business and are interested in participating, please contact us for all the details.  OR if you would like to see  a specific businesses participating in the  Shop Local Program, tell the business and tell us.  We'll talk.
Callaway Bank Rewards is a program many of our customers enjoy.  There are several ways to earn points such as making purchases with your Callaway Bank Visa®  Check Card, signing for a loan, referring customers and opening personal or business checking accounts to name just a few.  callaway.staging.websites.3pth.com/rewards
NOTE:  Rewards points expire after three years so be sure to use and enjoy them!